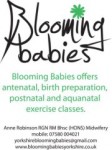 Blooming Babies delivers the latest information about pregnancy, birth and beyond. It's often confusing when you receive advice from everywhere and everybody. You can make an informed choice based upon up-to-date, reliable information from a pragmatic and experienced midwife.
Blooming Babies also provides a social network allowing you to share your experiences and concerns with other mums at classes in your community. Making new friends is invaluable during what can sometimes feel like a lonely and isolating time.
Antenatal Classes (Mums): Tuesday 12.30pm-2.30pm Nuffield Health Harrogate, Hornbeam Park Rd, Harrogate, HG2 8RA
Classes are suitable from 28-34 weeks pregnant
Cost £100 – 4 x 2hr classes
Cost £25 – 1 x 2hr class
Advanced booking required
Class 1 – Labour. Class 2 – Coping with labour. Class 3 – Feeding (live breast feeding demonstration) Class 4 – Caring for your newborn (live bathing demonstration)
Mum only classes are kept small, allowing the information to be tailored to your needs. The classes are practical and informative. With live demonstrations, which are fantastic ways to learn how to care for your baby and observe a new baby breastfeeding.
Flexible courses, as they can over 2 months, or if the dates are unsuitable individual classes can also be booked. Classes are held in a warm, bright, friendly environment, providing a fantastic opportunity to meet new mums to be.
Antenatal One2One Home Classes:
Cost on application
Classes led by Midwife Annie Robinson
These classes are perfect for couples unable to attend antenatal courses, just need to refresh, or simply prefer a class in the comfort of their own home at an agreed time.
Contact: Annie Robinson
t: 07580004021
e: yorkshirebloomingbabies@gmail.com
w: www.bloomingbabiesyorkshire.co.uk
Qualified Nurse RM BHsc (HONS) Midwifery, Aquanatal level 1 & level 2, Diploma in Teaching Infant Massage (Instructor Course)